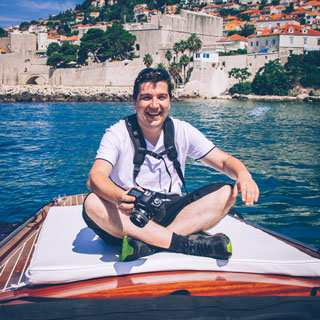 A photo is worth a thousand words, but since I'm better behind the lens, let me try and introduce myself in a few sentences.
A while ago I got a Masters degree in Economics, got myself a nice job where I was promoted regularly, got a nice paycheck,  all in all – everything was set in stone for me. But I had that itch… An itch that was telling me that I could do something different, branch out and change direction, bring excitement and diversity to my daily routine.
As many of us are, I also am a person of many hobbies and passions, some of them childish (from an amateur's point of view), like board games and ship modelling, some of them more mature, like IT and – photography as my number one passion. You know the saying, if a person finds a job he loves, he won't have to work a single day in his life. That was my trigger: I took a risk and started my own business from scratch, with a lot of wind in my sails from family and friends.
Other passions
Fridge magnets, Apple products, wine, travelling, tv shows marathons, good sleep, chinese food… and I love cats!
I find that you don't have to travel accross the world to call yourself a passionate traveller. Surely I enjoy both my Europe trips and the more distant ones, but recently my wife and I visited a small Croatian island, just 4 hours away from Dubrovnik, and now it's one of my favorite places.
Oh yes, I do like dogs as well, we just don't have enough space in our flat to properly accommodate one 🙂
Some things I am not a fan of
Watching the news, as they seem to feed us with negativity these days. Also I don't like expensive cheese, warm beer, too much milk in my coffee, cold weather, pop-up ads and slow computers.
So, who am I? I am Dubravko of the house Lenert, Master of Economics, bringer of diversity, starter of businesses, taker of photographs, believer in hard work, traveller of the world and lover of cats (and a die hard Game of thrones fan, obviously).